The Presidents of Kazakhstan and Azerbaijan, Kassym-Jomart Tokayev and Ilham Aliyev, have both addressed the opening ceremony of the Abu Dhabi Sustainability Week summit as the UAE leads up to COP28 later this year.
In his speech on Monday (16 January), President Tokayev of Kazakhstan spoke about his country's commitment to achieving climate neutrality.
"The abundance of wind and sun, as well as the vast territory of the country, can make Kazakhstan a leader in this sector, able to contribute to global climate protection efforts. In this regard, Kazakhstan is improving the regulatory framework, creating the most attractive conditions for investors. The country plans to introduce 6.5 gigawatts of renewable energy resources by 2035. Green hydrogen is another promising area. International experts believe that Kazakhstan can become one of the world's biggest exporters of hydrogen," President Tokayev said.
Kazakhstan is also the world's largest producer of uranium, a fact emphasised by Tokayev. Indeed, nuclear power is often seen as crucial in bridging the divide between fossil and renewable energy without sacrificing economic growth and development.
"The country produces nuclear fuel components at home and has adequate capacity to promote the safe use of nuclear energy. In our opinion, this is a very promising area for trade and investment at the regional and global levels," the President said.
President Tokayev also spoke about Kazakhstan's launching of a major project to plant two billion trees by 2025. Last year, 282 million trees were planted and another 410 million are expected to be planted this year.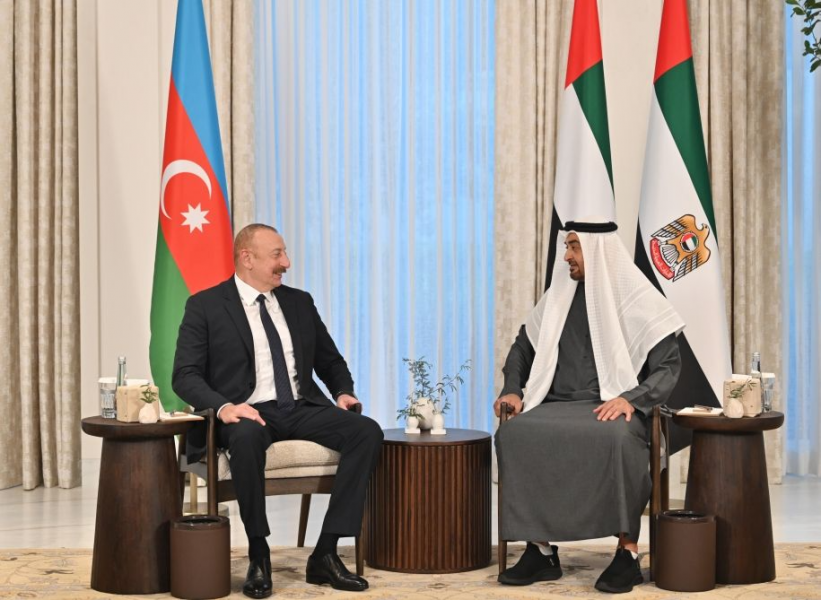 On his part, President Aliyev of Azerbaijan noted his country's potential in developing green energy projects. He said that such projects would "diversify our export and, of course, it will create a new ecologically-friendly sector of our economy."
"With respect to our potential, just a couple of figures for your attention. 27 gigawatts of wind and solar onshore, 10 gigawatts of wind and solar energy in the territories which have been liberated during the Patriotic War of 2020, and 157 gigawatts of wind energy in the Azerbaijani sector of the Caspian Sea - almost 200 gigawatts of potential. Of course, we need to have enough export routes. And of course, to implement all these projects in stages."
"Yesterday, [UAE-government owned renewable energy company] MASDAR and Azerbaijan's national energy company SOCAR signed an agreement to develop four gigawatts wind and solar power plants in Azerbaijan, and this is only a short-term project. Mid-term projects will increase the volume up to 10 gigawatts. And this is absolutely doable. We have a roadmap for that. This project, only this project, our cooperation with MASDAR will transform Azerbaijan into a very important source of green energy exports."
source: commonspace.eu with The Astana Times and AzerNews
photos: The Astana Times and AzerNews