July 2022 saw the 19th edition of what has become a staple event in the Georgian cultural calendar. Founded in 2003 by artists Tamar Melikishvili and Giorgi Baramidze, musicians Zaza Korinteli and Niaz Diasamidze, sculptor Nika Anjaparidze, and photographer Maria Lanevski, the Art-Gene music and crafts festival has played a huge role in reviving Georgia's now thriving traditional cultural scene since its dog days of the early 2000s. Looking forward to Art-Gene's 20th anniversary next year, commonspace.eu's Deputy Editor Patrick Norén spoke to Tamar Melikishvili about Art-Gene's origins, ethos, community, and future.
"We love our country, and we wanted to do something."
'The community of arts was depressing…gardens and yards were horrible,' Tamar told me. The cultural landscape in Georgia towards the turn of the century was indeed dire, with folk arts, crafts and music being afforded very little attention. There was a sense that Georgia, which like many other countries around the world sees its soul through the prism of traditional rural culture, could lose its unique identity if action was not taken to stop the decline. 'We love our country, and we wanted to do something,' she said.
Therefore, in 2003 the founders of the NGO "the Union of Art-Gene" set off investigating culturally integral, transgenerational traditional art forms around the whole of Georgia, to record and archive predominantly folk music. 'We saw that the old generation were keeping folk life alive, they were working and singing in the fields. Folk was the life of rural Georgians, and every day was a reminder that we had to search for and collect unique people,' Melikishvili recalled.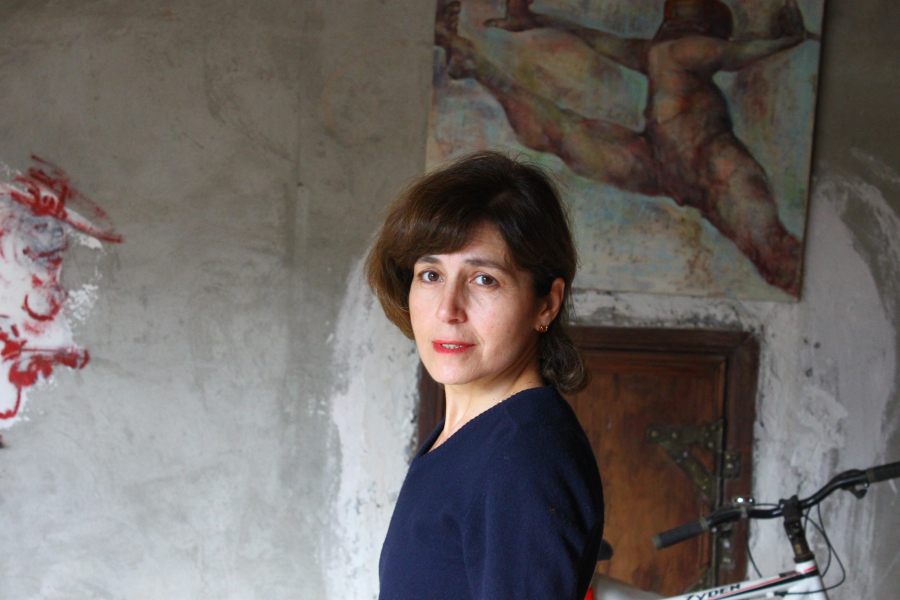 The youth factor
Over 100 families known to maintain strong traditions were visited, and many were then invited to perform at a gala concert at the very first Art-Gene festival in Tbilisi in the summer of 2004. Some families have recorded live for further archival purposes, and others have even recorded and released CDs. Reflecting Art-Gene's founding motivation, to preserve and promote traditional Georgian culture, Melikishvili and Baramidze chose the Tbilisi Open Air Museum of Ethnography as the venue, where every festival has been held since its inception. This is in addition to a regional tour of concerts that take place elsewhere in Georgia, expanding Art-Gene's exposure beyond the capital city limits.
There was a problem, however. How exactly would one attract a Georgian youth that only listened to modern music, to a folk festival? 'We set up a trick for them,' Melikishvili told Georgia Today back in 2015. 'We included modern bands in evening shows, and folk groups earlier, so they had to listen to both! Our greatest achievement was that folklore became fashionable!' These rock concerts and jamming sessions mixing folk, modern music, and dance, became a hallmark of the early years of Art-Gene, and have to a certain extent continued to this day. While more traditional musical groups take to the stage during the day or early in the evening, the final sets continue to be filled by celebrated performers, some of whom have their own personal connection to Art-Gene. Gaga Frani, who closed this year's concert on 16th July, are among some of the 'so many musicians' who first came to the Art-Gene festival as teenagers having snuck through a hole in the fence to avoid paying for tickets. 'Whenever they perform', Tamar added, 'they say that this festival gave them the chance to understand what they have to do in the future, and it was the first impulse to start, to become musicians.' The role that Art-Gene has played in injecting new energy into Georgia's cultural environment has been nothing short of invaluable. 
An intimate atmosphere despite booming attendance
This strategy worked wonders. Although attendance during the first days of the first ever festival in 2004 was limited, an enthusiastic younger generation helped knowledge of the concerts spread rapidly by word of mouth. By the fourth and fifth days, 'they were bringing  their mums, fathers, they were bringing blankets from early morning to lie on the grass. But next year they came with fanduris and chonguris too,' said Melikishvili, referring to two of the most popular traditional Georgian instruments. Art-Gene's popularity kept increasing, attracting some 40,000 visitors in 2007 and representing a 90% jump on previous years. Until the onset of the coronavirus pandemic, Art-Gene had regularly attracted around 30,000 visitors every year, cementing the week-long festival as a vital staple and indeed lifeline for rural traditions at the heart of Georgia's burgeoning cultural scene. Almost 20 years later, Art-Gene has in total seen over 100 concerts.
Although this year was the third year in a row in which attendance was limited due to coronavirus regulations, the typically warm, cosy, familial atmosphere of Georgian hospitality was still very much present. Local craftspeople sold their handiwork, visitors queued up for mtsvadi and ghvino, and Tbilisians and tourists alike huddled around the intimate amphitheatre marvelling at the cornucopia of excellent amateur groups, before welcoming the bigger names to the stage. 'There is a good relationship between who is performing and the audience because, you know, this energy is so close to each other. And the night, and the stars, and the emotions, they are always full with energy to continue their dreams to do something new,' Melikishvili told me.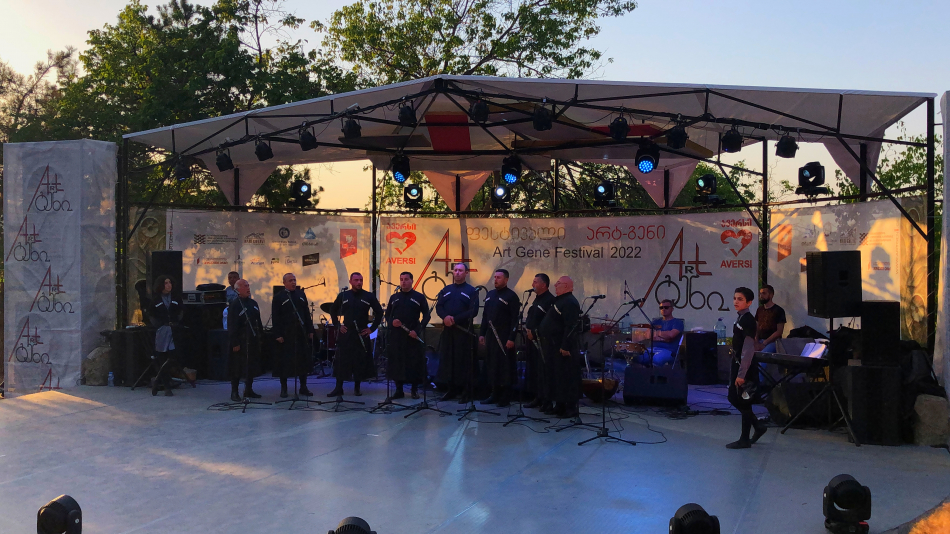 "They want to see us…they are calling during the year, they are inviting us into their houses."
While Art-Gene is the brainchild of a group of artists once depressed at the state of Georgian culture, its success is not by any means a one-way street. Aside from the numerous sponsors and state institutions that have consistently supported Art-Gene since its founding, it is the regional performers themselves who are among the most determined, dogged and passionate advocates for the festival's continued existence. 'Throughout the year people from the regions ring to say that they have no outlet to show what they are doing, and that they are getting ready for Art-Gene. It is great that they will never stop for as long as Art-Gene continues. They want to see us. It's so [heartwarming] that they are calling during the year, they are inviting us into their houses.' 
A part of Georgian culture shared with many other parts of the world is the awkwardly beautiful conversational dance as soon as questions of money or payment loom into view. In Georgia, both parties will strongly insist on paying before one side, often the guest, eventually concedes and promises to pay next time. While in Georgia I often found myself having little choice but to swallow my pride and accept that my new friends would be footing the bill or asking nothing in return, whether I liked it or not. This aspect of Georgian culture has not escaped Art-Gene's work too. 'We have this unique something that is very [close to] our heart. Whenever we organisers visit the regions, the locals refuse to be paid for hosting us, and they only ask that Art-Gene helps them develop their projects.'
On occasion, some international guests have accompanied Tamar and her team when they are travelling in the regions. 'One time,' Tamar recalled, 'some Americans were offered churchkhela for free, and they were shocked that these very poor people…wanted to share their food, their culture. This is unique. When I was young, this was normal for me. Now, it is a treasure for me.'
The locals in the regions are so keen for Art-Gene to continue well into the future that they do not even bother asking if it will do so. "No, we don't want to listen, we are coming, we want to sing," they demand. Art-Gene is therefore both a cultural enabler and creator. Not only did its earlier years provide great inspiration to the bands that are so popular throughout Georgia today, but it is also providing a commercial platform for the multigenerational practitioners of traditional culture that would otherwise remain isolated in the rural villages .'We need to be good helpers to them, and for this we all know that we need new projects, new blood, new journalists, new artists, who is good in the business, if anyone comes to us with new ideas we will be just happy.'
Success stories: paintings, fanduri, and honey-filled ceramic pots
Other than the several music groups who were inspired by Art-Gene as youngsters, some artists and craftspeople affiliated with Art-Gene can also trace their success back to the long summer days at the Ethnography Museum.
Born in 1946 in the small village of Supsa, near Poti, western Georgia, Elene Chantladze started painting at the age of 50. Today, with her works having been featured in galleries across the world, from Rome to Waterford, from London to New York, she is so famous that people will apparently argue over who first discovered her. While Chantladze recently said that the honour fell to a researcher from Tbilisi, Nina Sekhniashvili, there is another video on YouTube of Chantladze saying:
"In 2012 our city [Tbilisi] hosted a festival. A TV crew came to film the event. The artists arranged all their drawings on the walls in a specific way. My drawings were blown away by the wind, sometimes being stopped by nails or other objects. I collected them under a tree where people from Tbilisi came to see them. The journalists also took interest in the works and unexpectedly, I was awarded a prize."
One of those "journalists" happened to be Tamar Melikishvili, who took a photo of Chantladze and published it in that year's edition of the Art-Gene magazine.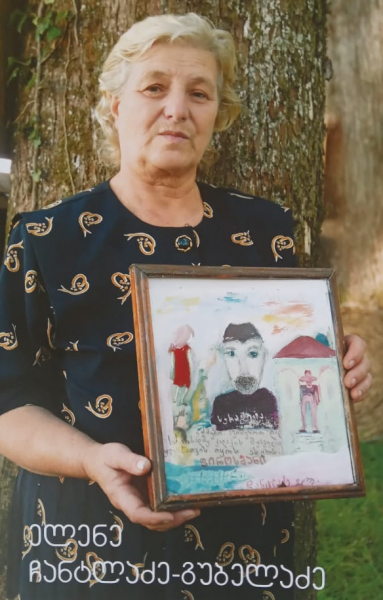 Another Art-Gene success story was the surrealist painter Fridon Nizharadze. Having been born and growing up in the mountain village of Ushguli, Nizharadze studied at the Tbilisi State Academy of Arts where Soviet authorities attempted to force him into socialist realism. Following a spell in a psychiatric institute in 1973 during which he was diagnosed with schizophrenia, Nizharadze moved back to Svaneti, where he worked at the Chazhashi Museum from the 1980s onwards. It was only in later life that his works became more widely known, with his remarkable workshop attracting a flow of Georgian and foreign visitors. But it was only through Art-Gene, according to Tamar, that his works gained more public exposure, with his first personal exhibition being hosted by the Tbilisi History Museum in November 2019. 'When we saw him he was not famous through the population… [visitors learned that] there is a man who lives in the high mountains doing perfect things,' Tamar reminisced. 'He was a very special man.' Fridon Nizharadze passed away on 13th November 2020, aged 76.
Another name that will forever be linked to Art-Gene is the instrument-maker Demur Jalaghonia. 'In 2005, I remember I entered the Ethnographic Museum and under a tree there was a man sitting from Samegrelo [in north-west Georgia] with a big amount of fanduri and chonguri,' said Tamar. He had heard about the festival from the TV and taken himself off on the over 300km journey to Tbilisi, and was waiting for the festival to start. "Is this the festival here?" he asked. "Of course," Tamar replied. And, just like that, for the next decade the instrument-maker from Chkhorotsku was getting orders not only from ordinary people, but professional musicians and even the Georgian government and Ministry of Culture.
Other success stories include a beekeeper from high Ajara and a potter from Samtskhe-Javakheti becoming acquainted through Art-Gene, and setting up a joint business; and one 'fantastic old lady with fantastic knitting who went around Tbilisi to see what the young generation of girls were doing', and who subsequently started teaching them knitting too. 
'We are not doing it to be famous, or to make artists famous. They are doing it with heart. We want to make these people successful, to help them, and to push them to do great things,' said Tamar. 'Just to show the new generation…please don't move abroad to live. This is really unique, that you can look at your grandmother and grandfather…don't sell the house in the village because this is a big treasure, keep it please.'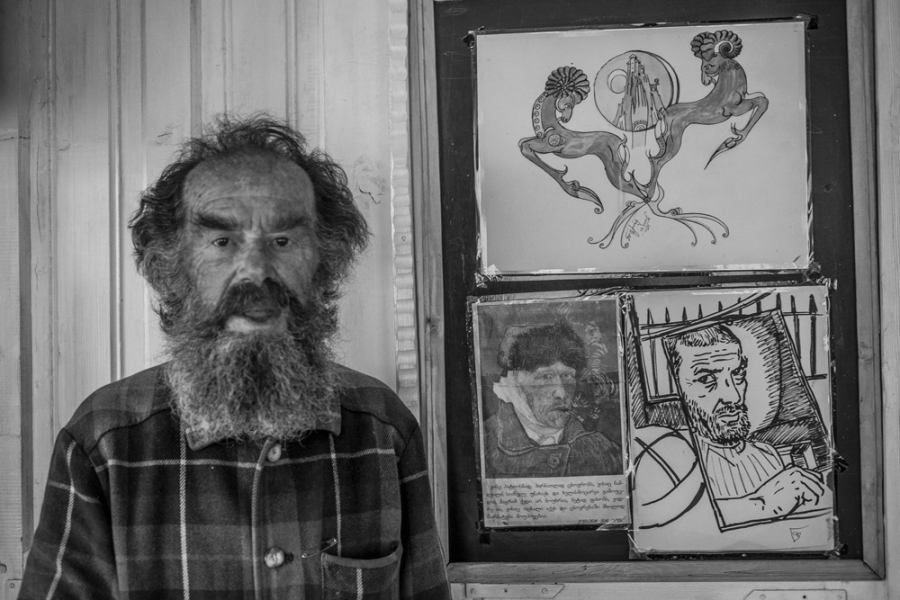 From the Gurian hills to "Solsbury Hill": Georgia heads to WOMAD
Far from being a Georgia-only festival, a large number of foreign folk groups have also performed at Art-Gene since 2004, opening up new pathways for visitors to experience world culture. Over the years, the festival has hosted participants from Ingushetia, Chechnya, Ukraine, China, Japan, France, the UK, as well as the group Kilema from Madagascar, Aisva from Lithuania, Saime from Latvia, and Tekla Klebetnica from Poland. One time, the Georgian folk band Chveneburebi performed together with a family from Sardinia. 'It was talented, fresh and spontaneous, Georgian and Italian voices came together on stage and they had a new Esperanto language of music,' Melikishvili recalled.
To date, however, there has only been one Georgian group that has performed abroad thanks to Art-Gene. Supported by the last remaining bit of money left over from an EU grant, in 2013 the Gurian ensemble Iadoni performed at the WOMAD festival of world music in Malmesbury, UK, founded by the former Genesis frontman and singer of "Solsbury Hill", Peter Gabriel. Never having left Georgia, the old men of Iadoni didn't even have passports before heading to Wiltshire. 'There was big interest in this group. They were so happy because it was the first time they had left their village and country…it was so cute when they were there…it was really impressive,' said Tamar.
Being one of the landmark events of Tbilisi's cultural calendar, Art-Gene also attracts a number of tourists. It has even been listed in Lonely Planet's guide to Georgia as one of must-do's of the summer months in Tbilisi. Dutch student Berend de Haas, who visited the Art-Gene festival on 16th July, told me, 'I was blown away by the literal emergence in the rich Georgian musical culture that the event offers. Tucked away on an idyllic hillside overlooking Tbilisi, the event made for a surprising and very valuable addition to our journey.' 
Meanwhile, American student Isaac Eaton, who attended on 17th July, said, 'I don't listen to much music in languages that I don't understand, let alone go and see shows like that, so that was a very different experience for me. I was surprised how much I still felt like I "understood" what the songs were about anyway, based on the performers' manner and the crowd's reactions. It made it really easy to get into and resonate with, so I didn't feel out of place at all.'
"The world is nice because we are so different, but we also make one big picture, like a painter."
I asked Tamar if any groups had ever considered auditioning for the likes of Britain's Got Talent, or America's Got Talent, following in the footsteps of numerous international groups who have found global fame through the franchise. 'We don't think about these very famous shows, I don't know exactly if someone would like to do this…For us, it is more important to participate more in traditional festivals than to suddenly help them to become very famous…But who knows? We want to have a new generation in our group, we want some new blood to come up with the projects . Because after 20 years it needs new ideas, and we want those who are interested not in how Art-Gene can become commercial, but open to other countries. Because then the new generation will have more sources [from which to take inspiration]. They are full of enthusiasm.'
Hoping to stage a series of special concerts at the amphitheatre at Bebristsikhe castle north of the old capital Mtskheta, Art-Gene will return for its 20th festival in summer 2023. 'This is our dream, we want to do it, and hopefully we will get some funding. We'll bring old and new people from the regions, bring some old participants and friends from around the world…if we can do it, it would be great.'
Bringing our conversation to a close, Tamar said, 'if a country keeps and loves its own culture, it will become very open and interested in the culture of other countries. The world is nice because we are so different, but we also make one big picture, like a painter. When I am working on the canvas, all of these different moods and colours become one symphony, and that is what makes the picture interesting.'
source: Patrick Norén, Deputy Editor of commonspace.eu, visited the Art Gene Festival in Tbilisi in July 2022. He interviewed the Festival co-founder, Tamar Melikishvili, for this article.


photos:

Art-Gene Festival, Tamar Melikishvili, Stefan Applis, and Patrick Norén 
Further Information on the Art-Gene Festival is available on the following sites:
Agenda.ge. 2022. "Tbilisi hosting outdoor folk music festival Art-Gene." July 15, 2022.

agenda.ge

.

https://agenda.ge/en/news/2022/2716

(accessed 11th August 2022).
Eristavi, Nutsa. 2022. "Art Gene Festival 2022."

Georgia Starts Here

. July 11, 2022.

https://georgiastartshere.com/georgian-folk-festival/

(accessed 11th August 2022).
Georgia Today. 2021. "With Respect: Pridon Nizharadze."

Georgia Today

. December 9, 2021.

https://georgiatoday.ge/with-respect-pridon-nizharadze/

  (accessed 11th August 2022).