This is a commentary originally published on 9 March as a briefing in our Caucasus Concise newsletter series. To sign up for the newsletters, click the link here.
"The Georgian people have over a long period of time expressed their desire to be part of the European family," writes the commonspace.eu editorial team. "Georgia is situated in a difficult neighbourhood, with predators, such as Vladimir Putin's Russia, as neighbours. Europe and the broader west need to support Georgia in this difficult moment. But first, Georgian politicians need to step back and defuse the current crisis."
Georgia's recent history, since regaining independence after the collapse of the Soviet Union in 1991, has been a tumultuous one. In not much more than thirty years it has seen civil war, secession, economic collapse, revolution, war, and a state of permanent political crisis. 
Yet this is only one side of the coin. For a moment Georgia appeared to be a failed state with no prospect of redemption. Yet it pulled back; institutions were built, even if imperfect ones; the economy recovered. For the last two decades reasonably fair elections have been held, which broadly reflected the opinion of the country. In a rarity for the post Soviet space, one party replaced another in government through the ballot box in 2012.
These two trajectories, political turmoil and upheaval on the one hand, and stabilisation, democratisation and development on the other, have somehow co-existed for some time now, with many Georgians, and others who follow Georgian affairs, left wondering which trajectory the country was in the end going to follow. It seems Georgia has now reached the crossroads again, and the choices cannot be any starker.
The Georgian Dream party (GD), founded by Bidzina Ivanishvili, won the 2012 election, and two subsequent ones. They have broadly projected a pro-business approach, embraced Georgia's EU and NATO membership aspirations, renounced war as a means of restoring the territorial integrity of the country, and largely left Georgians to do their own thing. But in dealing with the opposition, and especially with the United National Movement (UNM), GD loses its cool.  
Since losing the 2012 elections the UNM has been through various metamorphoses, but strangely it keeps returning to its original form. A recent change in leadership was a case in point. The party maintains a solid grassroot support, and has shown the capacity to spring election surprises. Yet UNM wants power back quickly, and shows little sign of the patience needed, and the tactics required, to achieve that through the ballot box.
Ostensibly, GD's founder, Bidzina Ivanishvili, has retired from politics, but frankly no-one in Georgia or anywhere else believes that, and all anecdotal evidence suggests he continues to pull the strings from behind the scenes. Over the last year the Georgian Dream government has been acting very peculiarly. Some argue that it was the opposition, with its threat to destabilise the country that pushed Georgian Dream to take a hard line position. But this cannot explain some of the Georgian Dream government's utterances, including that the West was trying to force Georgia to "open a second front" in Ukraine's war with Russia. That Georgian leaders should mouth this piece of Kremlin propaganda is very odd indeed.
The war in Ukraine provided Georgia with some unexpected opportunities. The situation forced the hand of the EU to fast track its review of the applications of the "trio countries" - Ukraine, Moldova and Georgia - for membership. As a result, last year all three were given a membership perspective, and Ukraine and Moldova given candidate status. Georgia was told it must do more work, and was given a 12 point "to do list". Both government and opposition in Georgia agreed that it was important to fulfil the 12 points to get candidate status as soon as possible. But they failed to work together to achieve this.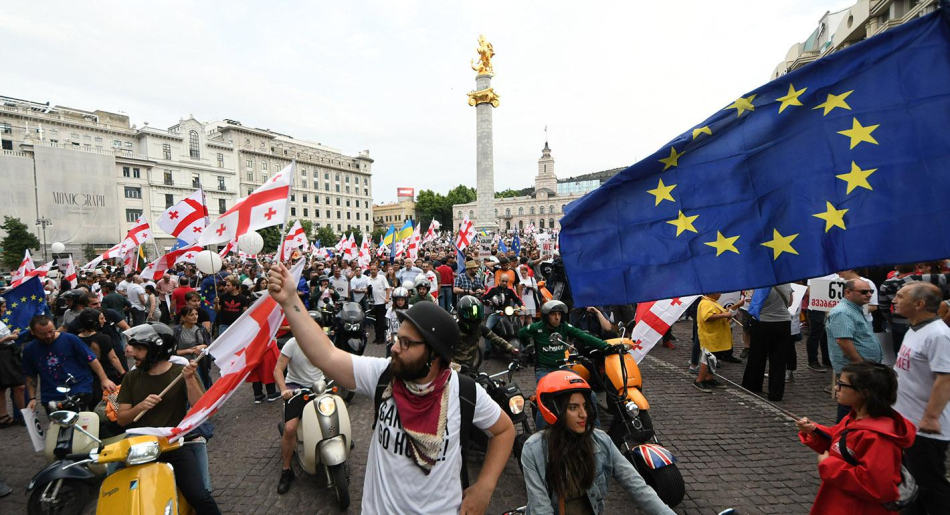 Georgian Dream introduces the "foreign agents" law
Instead, in a move that surprised even its own supporters, Georgian Dream came up with the idea of a law on foreign funding for NGOs and media and others, popularly known as the "foreign agents" law. Regardless of the small print of the law, on which lawyers can happily argue for many years, politically this was a reckless act by the Georgian Dream government with two consequences that could have easily been predicted. 
First, it united a broad spectrum of political and civil society forces behind one objective – that of opposing the GD government and preventing the law from being enacted. Second, it galvanised international public opinion against the tactics of the Georgian Dream government. In short, the presentation of the foreign agents bill did what the imprisonment of former president Mikheil Saakashvili failed to do, namely to unite a broad spectrum of opinion in Georgia and abroad against Georgian Dream government policies. The timing could also not be more harmful for Georgian Dream – given that a decision on the future of Georgia's EU candidate status is likely soon.
Related content: "Far from FARA? Georgia's foreign agent law controversy" - eurasianet, here.
So, was this an act of political stupidity, or something more nefarious? That unfortunately remains an unanswered question. Demonstrations in Tbilisi in the last days have resulted in violent clashes with the police. The prospect that this political struggle currently playing out in Georgia turns violent now needs to be taken seriously. Much harm has already been done to the country, and there is the prospect of much more to come. 
Georgia is in a hole, and it is now essential that Georgian politicians stop digging.
On Thursday (9 March) the Georgian Dream government suspended the discussion on the foreign agents law in parliament, saying they were going to engage in a national consultation. They should commit not to bring this law back to parliament before the next election. If they are so keen about it, they should include it as part of their election programme in the next election scheduled for 2024 – let the Georgian people decide on it.
That diffuses the immediate crisis, but it does not solve the problem. A second issue that needs to be tackled is the future of imprisoned former president Mikheil Saakashvili. Saakashvili is no Gandhi, and many Georgians believe prison is exactly where Saakashvili should be. But it may now be in the wider national interest to diffuse the Saakashvili factor, for example by arranging that he is put under house arrest in a third country with a promise of a full amnesty in two year's time.
Once the deck is cleared it will be necessary to rebuild the political framework. The Georgian Dream government was elected in a reasonably free and fair election to serve until 2024. The opposition needs to accept this and recognise that Georgia neither needs, nor wants, another 2003 style revolution. They should stop trying to cross the same river twice. This is important because for parties to win elections they need different tactics and leadership than for trying to bring down the government by popular turmoil. Looking at today's Georgian political spectrum it is not so difficult to understand who stands for which option.
For the next twelve months Georgian politicians should focus on securing EU candidate status for the country. A national council, chaired by the president, Salome Zurabishvili, with senior statesmen, but also with the key government and opposition leaders should be tasked to steer the process. If done properly such an exercise can help diffuse the situation and lessen the toxic political polarisation that prevails.
In parallel, government and opposition should engage in serious discussions on how to strengthen the political process, including elections. The 2024 election can be a game changer, not only by what result it gives, but also by the way it is conducted and perceived. It is important to restore the trust of the Georgian people in the political process, and a clean election is one of the best ways of doing so.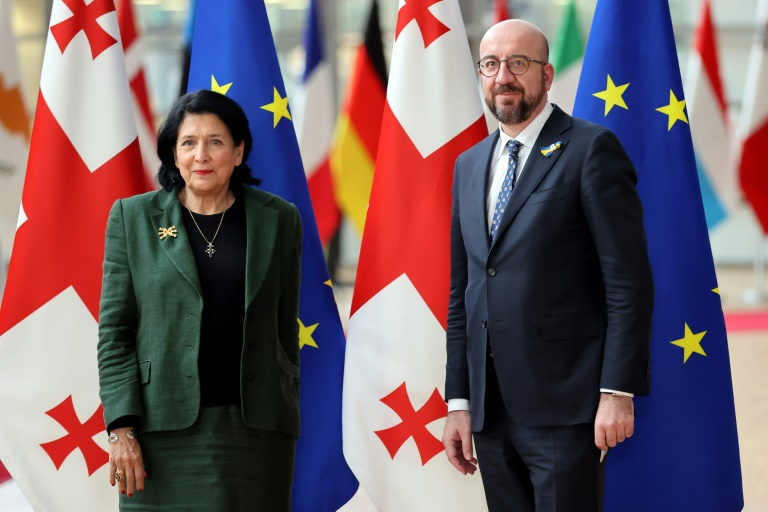 Many ask, what can foreigners do in this situation, or should they not interfere at all?
Of course it is for the Georgian people to define their future. However the international community can contribute in many ways in support of the above processes. After Charles Michel's failed attempt at reconciling government and opposition two years ago, it will be difficult to persuade any senior western politician to allocate time and political capital for what looks like another thankless task. 
But the moment is different, and even Michel himself, if he is minded to try to pick up the pieces again, will find that the situation, despite how it may look at first, is more conducive now for his initiatives. For the sake of the Georgian people he may want to consider re-engaging, but only after the ground has been better prepared than on the previous occasion.
The Georgian people have over a long period of time expressed their desire to be part of the European family. Georgia is situated in a difficult neighbourhood, with predators, such as Vladimir Putin's Russia, as neighbours. Europe and the broader west need to support Georgia in this difficult moment. But first, Georgian politicians need to step back and defuse the current crisis.
source: commonspace.eu editorial team
photo: AFP via Getty Images
The views expressed in opinion pieces and commentaries do not necessarily reflect the position of commonspace.eu or its partners