Key figures, from both Libya's past and present, including leaders of some of the current political parties, have announced their bid for the Libyan presidency. Elections for the next president of the North African country are scheduled for 24 December. 
The elections will be the first presidential elections in Libyan history. However, not all civil society accepted the candidates running for the post, raising concerns that the past history of some candidates and suggesting that this will not allow for a free and fair run of the elections. The international community has already warned that any spoilers will face sanctions. 
 
Saif al-Islam was for long known as a force of good change during his father's rule. However, his support of the brutal crackdown of protests in 2011 earned him infamy by many Libyans. He was arrested and put on trail and received a  death sentence that was later overturned. Staying in the shadows, he appeared in an interview with the New York Times in July 2021. On Sunday (14 November), he announced his bid for elections. The Libyan elections law allows the candidacy of Saif al-Islam since he is wanted by the ICC and not by a Libya judiciary. 
 
The other major candidate is General Khalifa Haftar, who was for the past few years on the opposite side of the UN-backed government in Tripoli leading an insurgency from his eastern base. Haftar is another divisive figure disliked by many in Libya due to his role in the civil war. Haftar promises a path of reconciliation, peace and construction if he wins the presidency. In preparation for the elections, Haftar announced in September that he is stepping down from his military responsibilities for three months as required by the election law.
Image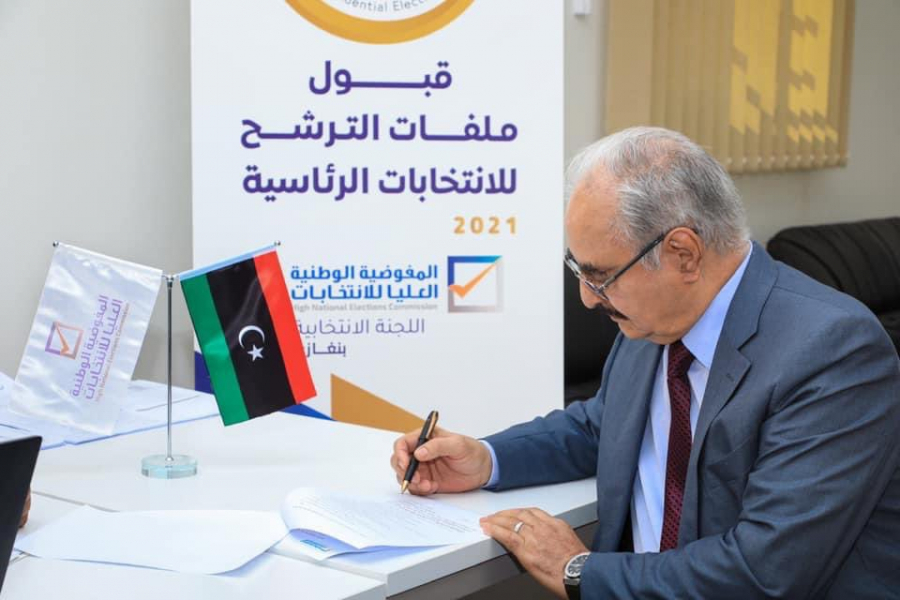 Elections are less than two months away yet Libyan factions and political bodies still squabble over procedure and schedule. The differences are between the Libyan Parliament on the one hand, and the High Council of State (HCS), the Government of National Unity (GNU), and the Presidential Council on the other end. Each body is accused of supporting a certain candidate over the other. 
 
Prime minister Abdelhamid Dbeibah is yet to announce his bid but all signs point towards his participation. The current rules stipulate that Dbeibah cannot run for the presidency as he is a member of the interim government. The UN mission had previously indicated that Libya's High National Election Commission (HNEC) is the sole decisiomaker of candidates eligibility. The HNEC, however, may not accept Dbeibah's bid until the House of Representatives amends the law removing restrictions on current officeholders to run for elections.   
Source: commonspace.eu with the Arab Weekly (London), BBC (London), France24 (Paris), 
And Libya Review (Tripoli). 
Picture: Saif al-Islam announcing his bid for elections.