In this piece for commonspace.eu, Samar Al-tashi discusses the desperate current state of the healthcare system in wartime Yemen, and offers some prospects and recommendations for the healthcare system in peacetime, stressing its importance in the post-war reconstruction and rehabilitation process.
According to a World Bank policy note of April 2021 on Health, Nutrition and Population HNP operations in Yemen, only 50% of health facilities were fully functional, and over 80% of the population encountered significant challenges in reaching food, drinking water, and accessing healthcare services. All this and more is an expected outcome of the prolonged and ongoing armed conflict, economic decline, and institutional collapse that the country has been suffering for almost 8 years now.
Moreover, health-related disasters in Yemen have exceeded the capacity of the existing poor resources of the health sector and are now forming an extra burden on the limited capacities of this system. Almost 4 million people have been forced to flee their homes, 3.25 million are suffering from acute malnutrition, 5 million are at risk of famine, and 16.2 million are encountering food insecurity, as stated in the World Bank report for 2022.
The healthcare system in Yemen is an out-of-pocket system with consumers paying directly to care providers with little to no insurance coverage. This system is extremely reliant on external funding and the provision of health services is primarily done through implementing NGOs (local and international) for primary care. This is in addition to inefficient, incompetent private and public health organizations (hospitals, clinics, labs,...etc.) that mainly depend on development partners executing vertical health programs e.g. UNICEF.
The healthcare system in Yemen is divided according to the political situation in the country
Coupled with the ongoing war and the random destruction of many healthcare institutions all over the country, there is also the international siege that the country has been under since 2014. These factors and many others have hindered the ability to rebuild and reanimate the healthcare system in Yemen, especially in regions that are controlled by the Houthi rebels, who rebelled against the government, took the reins of power and became the de facto authority (DFA) in the north and central areas.
The situation in the rest of the country is no different. The fact that the Internationally Recognized Government (IRG) with all the decision-makers and stakeholders is situated outside the country, away from the actual reality of the situation inside the country, makes it even harder to compose suitable work plans and agendas to reconstruct what has been destroyed. 
In a similar manner, the healthcare system in Yemen is now divided according to the political situation in the country. Areas under the rule of IRG are facilitated by external support and international funds that are invested in some vertical health programs, such as medical camps that aid people with low socioeconomic status to visit clinics and be seen by doctors for complaints that are not urgent.
Nonetheless, this support is still not actually taking place, at least not as required. In other DFA-administered areas, the aid provided by the United Nations and other INGOs is limited as the DFA places restrictions on how humanitarian programs are implemented. Furthermore, the lack of awareness of the deteriorating healthcare system in the areas under their rule, make the IRG also guilty for the health inequalities that Yemeni people have been encountering all over the country. 
The health sector in Yemen is undermined by conspiracy theories and weakened by brain drain
Similarly, retrograde actions undertaken by politicians against Yemenis' health reveal themselves in the current anti-vaccine campaigns that are conducted by the DFA in Sana'a and other cities under their control. They deliver widespread messages aimed at discouraging people from giving vaccines to their new-born babies and children under the pretext of conspiracy theories, and that vaccines are made by Zionists who seek to kill their children. This practice, aligned with other similar fallacies, is affecting the population's health awareness and in fact reducing it, which in turn will finally lead to the deterioration of the general health status by the spreading of epidemics and other preventable diseases. 
Additionally, the health sector is experiencing a brain drain of personnel, namely doctors, nurses, and university professors. This is due to the deterioration of their living conditions and livelihoods, or as in some worse cases, as a result of sometimes even life-threatening persecution because of their political, regional, or even religious affiliations. The gross migration of healthcare personnel has negatively affected the capacity of the national health and education systems to overcome the challenges of this shortage, particularly in times of increasing demand on the health services.
Those challenges could be clearly seen during the Covid-19 pandemic when the massive number of cases were difficult to handle because of the under-equipped health facilities in rural as well as urban areas. Moreover, this scarcity has also affected the performance of trauma centers that were overloaded with injured victims of bombing, and later used to admit patients with Covid-19 infection. Again, in relation to the Covid-19 pandemic, the weaknesses in the Yemeni healthcare system were exposed by its inability to provide enough vaccine doses to immunize the healthcare personnel, let alone the population in general. 
Students must be trained properly, and mental healthcare must also be addressed
Equally important, medical students, the country's future doctors, were also affected by all the above-mentioned factors and many others, including a poor economic situation and a worsening education system. Nowadays, universities and other educational institutes in Yemen are either destroyed by air strikes and civil armed confrontations, or under-equipped with human and non-human assets. This has obstructed the creation of a suitable environment for those students to be trained properly. Indeed, the final result of this was a weaker and unsustainable healthcare system that is understaffed and unable to keep up with the population's needs either now or in the future.
Another dilemma is that mental health is given no weight or consideration in Yemeni society. According to a Cordaid report in 2021, only 46 psychiatrists are available across the country, with a rate of one psychiatrist for every 600,000 people. Additionally, the stigmatization of mental health issues represents a big barrier that prevents people with mental problems from tackling it when it is necessary. Superstitions, spiritual rituals, or harmful practices such as moxibustion instead play a leading role, and people tend to use them and believe in their efficacy rather than the professional and scientific services provided by psychiatrists and psychologists.
Currently, the simultaneous adversities that Yemenis are undergoing during the ongoing war - the Covid-19 pandemic, poverty, instability, and internal displacement on top of individuals' own personal problems - have made raising awareness about mental health and facilitating its accessibility inevitable. Considering this a priority in the healthcare system is needed in the government's peace and reconstruction agendas. 
It must also be mentioned that due to all the stated reasoning above, people with the luxury of monetary abundance, usually choose to travel abroad for treatment instead of receiving it in the national institutions. This migration costs people huge sums of money, which could be used and invested in the development of the national healthcare system instead of being sent abroad, especially during a global economic crisis and the deterioration of the Yemeni economy.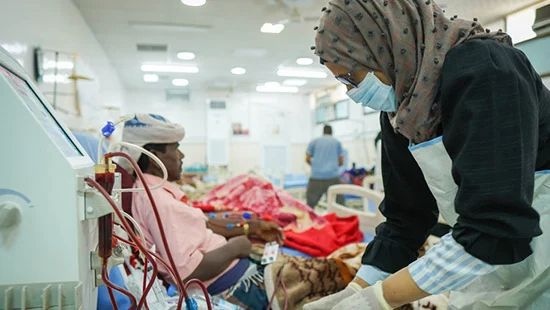 Reconstruction Yemen's healthcare system will require transparent and professional governance at all levels
Saving this system and providing the necessary support to its therapeutic and educational institutes is fundamental help in taking the country out of its ongoing humanitarian crisis. This as well as all other steps after the war would never be possible without the essential and foundational need for all warring parties and sides of the conflict to sit at the same table to find ways of resolving the conflict, working together to end the war, cooperating to reconstruct the country's infrastructure, restoring life and good governance to Yemen and its institutions.
Following a successful cessation of the current conflict, the reconstruction stage will require transparent and professional governance at all levels. Healthcare will be essential in rehabilitating the population and helping them regain their mental and physical well-being, and consequently become able to function and contribute to the rehabilitation and reconstruction process.
To achieve this goal, the healthcare system should be managed and monitored in accordance with international standards, making sure that it matches recognized protocols and follows the relevant laws that guarantee people proper and decent health services all over the country. For this purpose, a successful management network needs to be entirely based on relevant expertise, professional experiences, and knowledge, rather than political, tribal or religious affiliations as is the case currently. Moreover, the ongoing rampant corruption within the system needs to be uprooted so that responsible bodies are held accountable for any violations or breaches. 
 Practical steps to improve the healthcare system, besides establishing peace in the country, can include:
First and most importantly, monitoring and evaluation systems that can ensure the proper running of the healthcare system with multiple oversight at public, governmental, and international levels;


 

A management system that can put in place strategic plans to rebuild and develop the existing system and continuously follow up the execution of those plans. Furthermore, a successful management system must facilitate equal distribution of services between rural and urban regions.




 

Prioritising the needs of healthcare staff and increasing their wages so they can continue their professional development without jeopardising familial duties. Moreover, this policy should include the development of infrastructure and regulate the pharmaceutical market. All of this requires good coordination with other sectors and ministries in the government to enhance the functionality of the healthcare system.


 

Improvements in health education, for the general population, as well as for the medical staff in the health sector, are required and are as important as the material development of the infrastructure of the health system. In this regard, universities and health studies institutes should develop or adapt better curricula that are up-to-date and regulate education strategies to provide better theoretical and clinical learning experiences to students.


 

Additionally, one must raise awareness among people about health literacy through developing programs and training that can be introduced within the community by primary health professionals to people within their micro-environments. This should be one of the cornerstones that any future leadership of the healthcare system should consider. By investing in this area, by including them in the improvement process as contributors and not just as help receivers, the possibilities to improve the current general health status of the population become higher and more sustainable.


 

On a more professional level, a newly developed healthcare system should always consider the necessity of participation in scientific conferences and annual symposiums where healthcare forces can follow developments in the scientific community, whether it be knowledge, practices, or equipment and tools. This requires the presence in these events of the proper health experts who can execute tailor-made updates to keep the national system on par with international ones.
Yemen's healthcare system is a vital part of rebuilding the country after political and military peace is established 
Lastly, sustainability and building a more resilient system that can withstand any predicted future disasters, human or natural, are necessary. Measures in this regard should involve the independence of the healthcare system from all political affiliations, and to prevent non-medical professionals from influencing its structure and policy-making processes. The current practice which imposes religious or political agendas on doctors or healthcare institutions, must be prevented.
Moreover, some aspects of the tribal nature of Yemen's social system have always formed an adverse influence on the whole healthcare structure. Threats and murder crimes against healthcare staff in some areas, where tribe leaders died in the hospitals, for example, is one representation of such risks. For this reason, supporting healthcare workers and protecting them has to be a priority for a sustainable system. 
Yemen's healthcare system is a vital part of rebuilding the country after political and military peace is established. This process should not necessarily be considered an impossible mission, but achieving it is going to be a long and complex journey, requiring a sufficient, efficient planning strategy, and commitment from all decision-makers to achieve the goal of a sustainable, equitable, and independent system that delivers the required preventive and curative health services to all Yemeni individuals all over the country.
source: Samar Al-tashi is an accomplished medical doctor and global health professional, with expertise in medicine and public health. She holds a Bachelor's degree in General Medicine and Surgery from Sana'a University in Yemen and a Master's degree in Global Health from Maastricht and Thammasat Universities. Samar is also a dedicated advocate for diversity and inclusivity, to that end, she has conducted research about Arab refugee doctors' experiences with resuming their medical career in the Netherlands. She has participated in a number of medical and social events and cooperated with multiple initiatives and organizations that provide mental and social support to people with migration backgrounds, in particular, women in the Netherlands. She is deeply committed to advocating for peace and development in Yemen on both national and international levels.
photo: UNDP
The views expressed in opinion pieces and commentaries do not necessarily reflect the position of commonspace.eu or its partners