In the aftermath of the 2020 war Second Karabakh War many residents of Nagorno-Karabakh returned to find their homes badly damaged by artillery shells, unexploded cluster munitions, and debris from other weaponry scattered across their yards.
Stepanakert, the main Armenian-populated centre in Nagorno-Karabakh was one of the most affected areas. According to demining agencies working in the territory, such as HALO Trust, more than 20% of the city was contaminated with unexploded items left over from the war. They tell their story:
On a crisp spring morning, Alexander Zakaryan (Sasha) and his battle area clearance team set out to work on a tree-lined street packed with neat rows of single-family houses. This neighbourhood, Sasha explains, is one of the last remaining areas in Stepanakert left for HALO to clear.
The largest and most challenging task that the HALO Nagorno-Karabakh team has faced in the aftermath of the 2020 war is the clearance of urban areas. These include towns like Martuni, Martakert, Aygestan, as well as Stepanakert, where Sasha and his team are working today.
Battle area clearance is much more straightforward in fields and open areas, where conflicts, like the First Karabakh War in the 1990s, have traditionally taken place. But urban areas were directly affected during the Second Karabakh War, and while reconstruction efforts are ongoing, danger still lurks in the form of UXO often hidden under piles of rubble, in shrubs, or lodged in people's attics.
"Working in these neighbourhoods is challenging," says Senior Supervisor Narek Araquelyan. "There are more complexities in an urban area versus a rural area or a field." For one, there are simply more people around. On the occasion that an explosive needs to be destroyed on site, HALO staff set up sentries to redirect drivers and pedestrians, and work with local police to cordon off the area.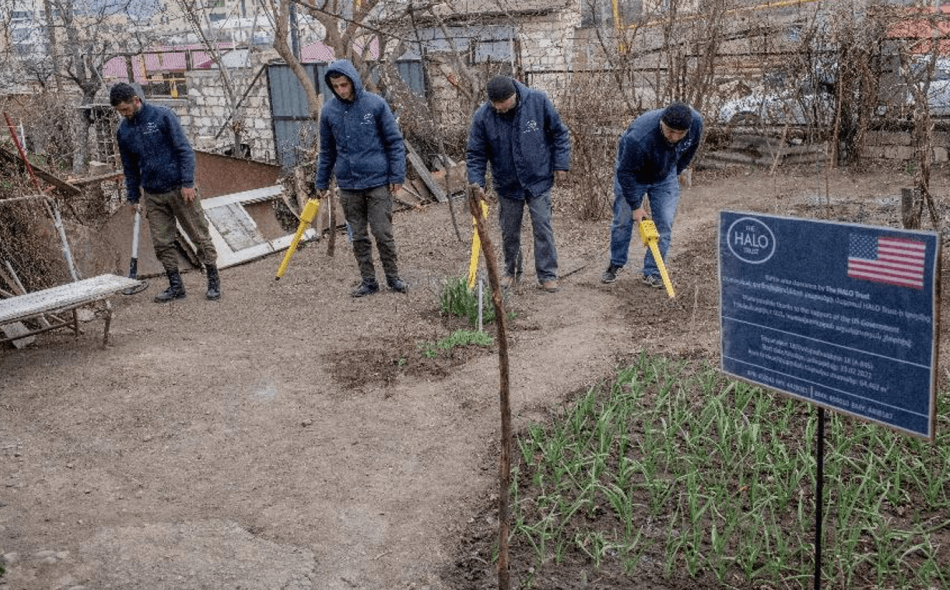 There are also more physical obstacles in urban areas, like sheds, fences, and of course, people's homes. "We don't want to risk their homes being damaged or destroyed," explains Narek, "so if we do find something near a residence, we have to approach it with extreme caution and move it elsewhere to be destroyed." There are also secondary hazards, like gas pipelines, and spots that are difficult or impossible to access, like abandoned houses or stacks of building materials. Searching underneath them presents a risk of disturbing cluster munitions. "Our highest priority is clearing areas that people will regularly access," says Narek. "We have to first get to places like people's gardens that are used on a daily basis."
Prior to that day's clearance, Sasha and his team have conducted a thorough survey of the polygon (the designated area) that they are clearing. Surveys in urban areas involve a certain degree of detective work, starting with a close examination of people's roofs. They climb onto every roof and search for pock marks. In this particular neighbourhood, barely a house has been left unscathed. If there is any evidence of shelling or debris, they enter the attic with detectors and conduct a thorough search of the entire property. "When a roof looks new," explains Sasha, "it means it has most likely been changed since the war. When this is the case, we consider it a dangerous site." They search it, just as they would a house with a pockmarked roof.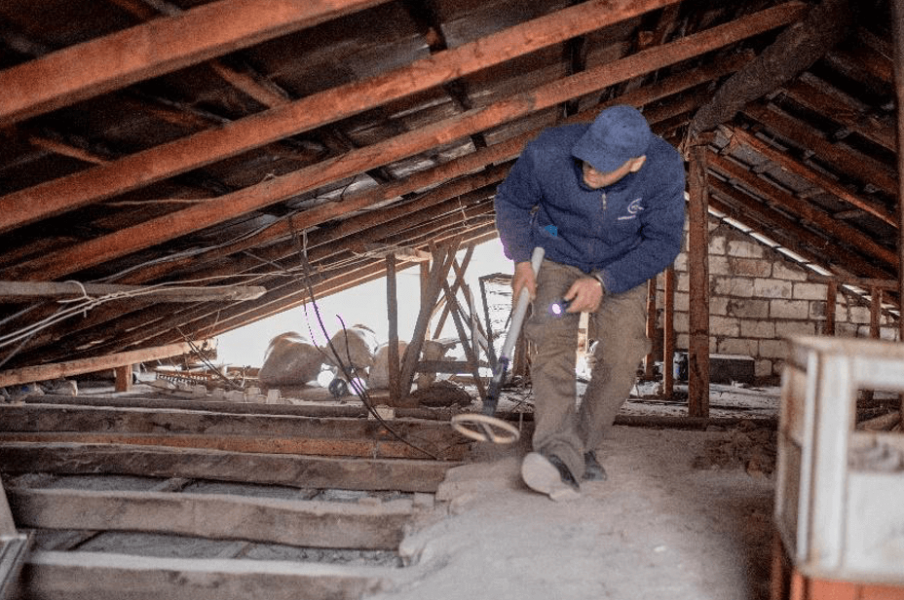 "Here in the city, we have to constantly be thinking on our feet," says Sasha. "We have to assess each lot for its specific characteristics and come up with a clearance plan accordingly. The only things that are set are our priorities: safety and accuracy."
In April 2022, over 18 months after the ceasefire, thanks to the tireless work of our deminers, HALO has reached an important milestone in helping Nagorno-Karabakh recover, the organisation says confirming that they have completed the clearance of all currently known contamination in Stepanakert.
source: This story is based on information provided by The HALO Trust and was first published in the Summer 2022 edition of the quarterly electronic newsletter, South Caucasus Landmine Observer