The Yemeni Foreign Minister, Ahmad Awad bin Mubarak, has joined the US and UN envoys to Yemen in their tour of the Gulf countries to garner support for a peaceful resolution in Yemen.
Bin Mubarak first visited Riyadh, where he met with the two envoys to discuss the de-escalation of the conflict and how to address the humanitarian situation. Bin Mubarak handed to the US envoy, Timothy Lenderking, a message from the Yemeni government which called on the United States to put pressure on the Houthis to stop the attacks they launched in Marib. In a separate meeting with the UN envoy, Martin Griffiths, the Yemeni foreign minister reiterated that the Houthis are not serious about peace. 
Bin Mubarak also had a phone call with the Secretary-General of the Gulf Cooperation Council Dr. Nayef Al-Hajraf during which the latter affirmed the GCC's support for Yemen. 
Earlier this week, Bin Mubarak also met with Dr. Youssef Al-Othaimeen, secretary-general of the Organization of Islamic Cooperation (OIC), in Jeddah. Al-Othaimeen and Bin Mubarak stressed the importance of the Riyadh Agreement that has fostered an adequate environment to solve several issues.
Next, bin Mubarak arrived in the UAE where he met his Emirati counterpart, Sheikh Abdullah bin Zayed. The two ministers underlined the longstanding relations between the two nations and UAE's willingness to support peace and stability in Yemen.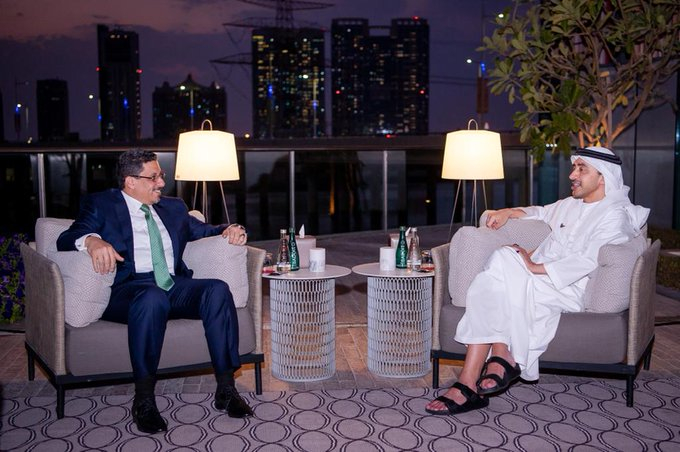 On his turn, Lenderking met with various local and international officials including the British ambassador to Yemen, Michael Aron. 
The Yemeni foreign Minister will continue touring the GCC countries along with the UN and US envoys. A Yemeni source described the tour and the revival of the Yemeni diplomacy as "a natural result of the positive atmosphere after the AlUla summit in the Gulf."
Source: commonspace.eu with various sources 
Picture: Yemeni foreign minister, Ahmad bin Mubarak discusses the latest developments in Yemen with the US envoy, Timothy Lenderking (Source: @yemen_mofa).