A massive explosion occurred on the Crimean Bridge on Saturday morning (8 October) at around 06.00 local time. The blast on the road section immediately spread to a passing oil tanker train on the adjacent railway line, which then caught fire. A section of the road has collapsed into the sea, and the railway is severely damaged.
On Sunday (9 October), Russia's President Vladimir Putin accused the Ukrainian secret service of causing the explosion in Crimea. In a meeting with the head of Russia's Investigative Committee, Alexander Bastrykin, Putin spoke of a "terrorist attack" on vital infrastructure.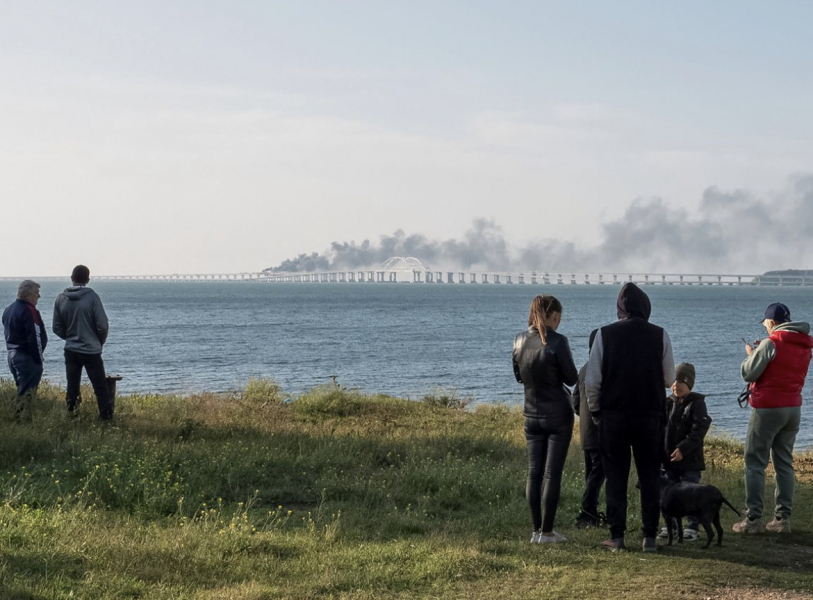 Although the road bridge is still intact in one direction, according to the Russia-installed governor of Crimea Sergei Aksyonov, all traffic on the strategically crucial bridge was suspended on Saterday after the explosionm while the damage was being assessed. For the time being, only cars are allowed over the bridge. Buses and trucks must use the ferry service between Russia and the peninsula.
The bridge, some 19 kilometres long, connects the Russian-annexed peninsula to Russia. The bridge is essential for delivering military supplies and was known to be targeted by Ukrainian troops. In recent months, Russia has deployed additional protection to protect the bridge from attack.
 
source: commonspace.eu with agencies
photo: A significant fire occurred on the Crimean Bridge. Reuters