Iranian Foreign Minister Mohammad Javad Zarif  on Friday (29 January) concluded his regional tour of the Caucasus region countries with a meeting in Ankara with Turkish president, Recip Tayip Erdogan. Over the course of this week, Zarif travelled to Baku, Moscow, Yerevan and Tbilisi where he met the leaders of the countries concerned before ending his trip with a visit to Turkey.
Zarif is trying to carve a role for Iran in the region following the changed circumstances following the 44 day war between Armenia and Azerbaijan. The war ended with a victory for Azerbaijan and with the west, particularly the EU and the US appearing excluded and marginalised by the processes that have ensued since. For Iran the new situation offers both risks and opportunities, and the trip was meant to ensure that it has a role in the region in the future.
Turkish media quoted the Iranian foreign minister as saying that for his part, during his visits to Azerbaijan, Russia, Armenia and Georgia, he had emphasized that the past should be seen as a way to the future. "We should positively use this. The ceasefire that currently exists [in and around Nagorno Karabakh] should become more permanent. It should ensure the revival of trade and economic relations," the minister added.

Emphasizing that the ground is ready for all six countries at the moment, Zarif said, "We can carry out activities for the development of the region and for these six countries. We can cooperate in different fields in terms of highways and railways and energy. I am very optimistic about this."
On 28 January, Zarif met in Tbilisi with Georgian President Salome Zurabishvili, Prime Minister Giorgi Gakharia and held a phone call with Foreign Minister David Zalkaliani, who is isolating because of covid-19.
In Tblisi, met with President @Zourabichvili_S and PM @GakhariaGiorgi and held phone talk with self-quarantined FM @DZalkaliani.

Excellent discussions on expanding perennial bilateral ties & regional cooperation—especially a transit corridor connecting Black Sea to Persian Gulf. pic.twitter.com/hFTa9vDDeE

— Javad Zarif (@JZarif) January 28, 2021
 Zarif departed Tbilisi in the morning of 29 January to Ankara where met with his Turkish counterpart, Mevlut Cavusoglu, presenting his vision for building up stability in the region given the recent security and economic developments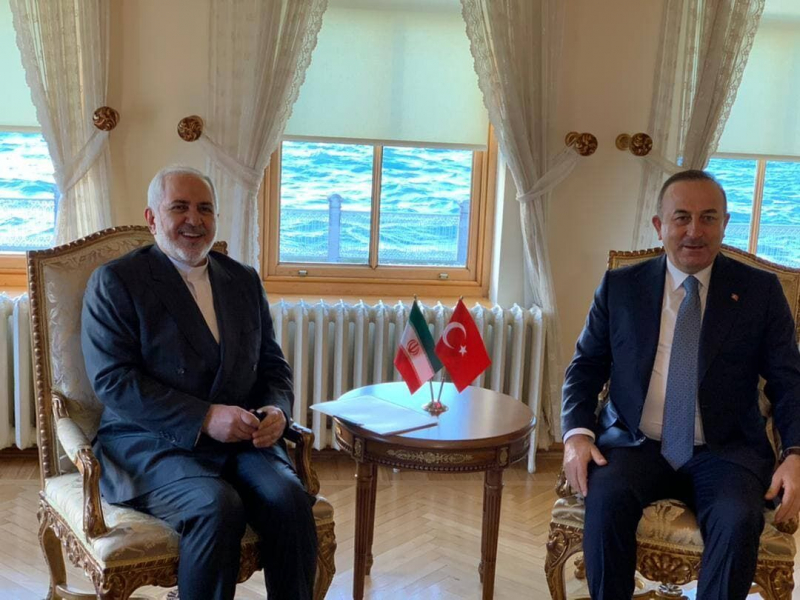 Iran appears to be warming up to the 3+3 formula that brings together the three core Caucasus countries (Armenia, Azerbaijan, Georgia) with the three regional powers (Russia, Turkey and Iran). Georgia has already made it clear it will not participate in a regional format that includes Russia, as long as Russia continues to occupy part of its territory – a reference to Abkhazia and South Ossetia.
Source: commonspace..eu with agencies
Photo: Foreign Minister of Iran Mohammad Javad Zarif meets Turkish president Recip Tayip Erdogan on 29 January 2021.