A poem recitation by Turkish president Recep Tayyip Erdogan stirred diplomatic tension with Iran during the weekend. Erdogan recited the poem during his visit to Azerbaijan in the aftermath of the Nagorno-Karabakh war. Tehran viewed the poem as support of secession of Azeri ethnic parts of Iran.
The Turkish president, who strongly backs Azerbaijan, read parts of the poem at a military parade in Baku on Thursday. The spat is over a part of the poem that discussed how a border tore apart ancient Azeri, or Azerbaijani, lands "by force".
"They separated the Aras River and filled it with sand. I will not be separated from you. They have separated us forcibly," reads part of the poem.
Iranian authorities summoned the Turkish ambassador, Derya Örs, to complain about Mr Erdogan's remarks. The Iranian foreign ministry's spokesperson Saeed Khatibzadeh said Örs had been summoned following the "meddlesome and unacceptable" remarks of Erdoğan.
Iranian Foreign Minister Mohammad Javad Zarif protested the incident on Twitter.  
Image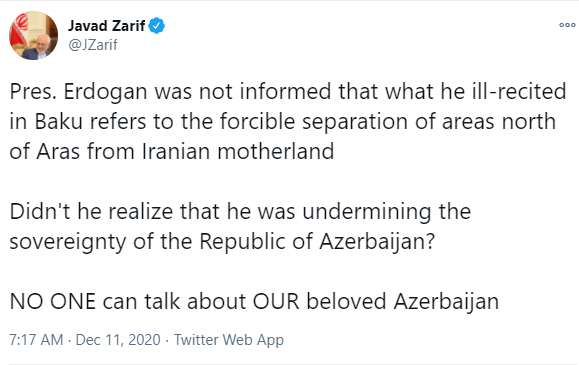 The Iranian ambassador to Ankara, Mohammad Farazmand, was also summoned to the Turkish foreign ministry late on Friday.
A Turkish foreign ministry official said Mevlut Cavusoglu told Mr Zarif that public statements coming out of Tehran aimed at the Turkish leader were "baseless" and unacceptable when other channels of communication were available between the two governments.
In a statement on Saturday, Turkey's communications director Fahrettin Altun said Iranians had distorted the meaning of the poem "to fuel senseless tensions". 
"It must not be forgotten that Turkey stood in solidarity with the Iranian state and people, despite the risk of having to endure international pressures, at difficult times for Iran," Mr Altun said.
Altun added that the poem the president recited is reflecting the "emotional experience of an aggrieved people" due to the occupation of Armenia, it continued, saying that there weren't any references to Iran or any other country for that matter.
The Turkish and Iranian foreign ministers spoke by telephone later on Saturday to calm the tensions. According to Iranian state news agency (IRNA), Çavuşoğlu assured that Turkish President Recep Tayyip Erdogan had full respect for the national sovereignty and territorial integrity of Iran and was not aware of the sensitivities surrounding the poem read out, and considered it only in connection with Lachin and Nagorno-Karabakh, and therefore read it at the Baku ceremony.
Iran's three north-western provinces – West Azerbaijan, East Azerbaijan and Ardabil – have a predominantly ethnic Azeri population that speaks a Turkic language. Since the beginning of the Nagorno-Karabakh war, the risk of rising secessionist movement in those three regions had been widely highlighted. 
Tehran and Ankara have maintained mostly cordial relations, despite fighting on opposite sides of regional conflicts such as the Syrian war, and severe US trade sanctions against Iran. Zarif, for his part, highlighted friendly relations and mutual respect, as well as cordial ties, between Turkish president and Iran's high-ranking officials, hoping that bilateral relations would further expand on the basis of mutual trust. 
Source: commonspace.eu with agencies. 
Photo: Iranian foreign minister Javad Zarif and Turkish foreign minister Mevlüt Çavuşoğlu shaking hands (Twitter: @IrnaEnglish).