The United Arab Emirates was once again a target of a Houthi drone attack in the early hours of this morning (31 January). The UAE defence ministry reported that the a missile was intercepted before hitting its target. The attack came as the Israeli president, Isaac Herzog, was visiting the country. 
The UAE's state-run WAM news agency reported no casualties as the remnants of the ballistic missile fell outside the populated areas. The attack is the latest in a series of retaliatory efforts claimed by Houthis as Emirati backed battalions take more territory from the Houthis in central Yemen. The latest attack was reportedly launched from Al-Jawf province in northern Yemen which is some 1350 kilometres southwest of Abu Dhabi. 
Image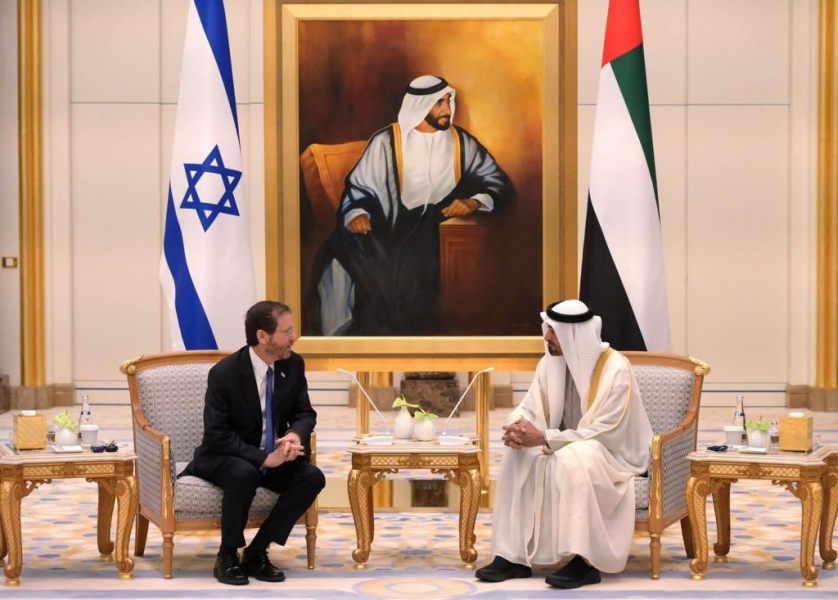 Herzog, who holds a ceremonial role in Israeli politics met on Sunday (30 January) with Abu Dhabi crown prince, Sheikh Mohammed bin Zayed Al Nahyan. Herzog's office told The Associated Press the trip was "expected to continue as planned." He visited Expo 2020 today giving a speech about Israel's innovations, its presence at the fair and economic cooperation with the UAE since the nations normalized relations.
"Israelis and Emiratis are standing together, learning each other's cultures and languages," Herzog said, rattling off figures about cooperation since the nations opened ties: $1 billion in trade, the establishment of a $100 million joint research and development fund, and 250,000 Israelis who so far have visited the UAE's gleaming coastal cities.
Israeli officials earlier requested the media not to report coverage of Herzog's visit to the Expo. 

Source: commonspace.eu with Associated Press (New York). 
Picture: Image released by Emirati MOD showing the interception of the missile; Source: The National/WAM.